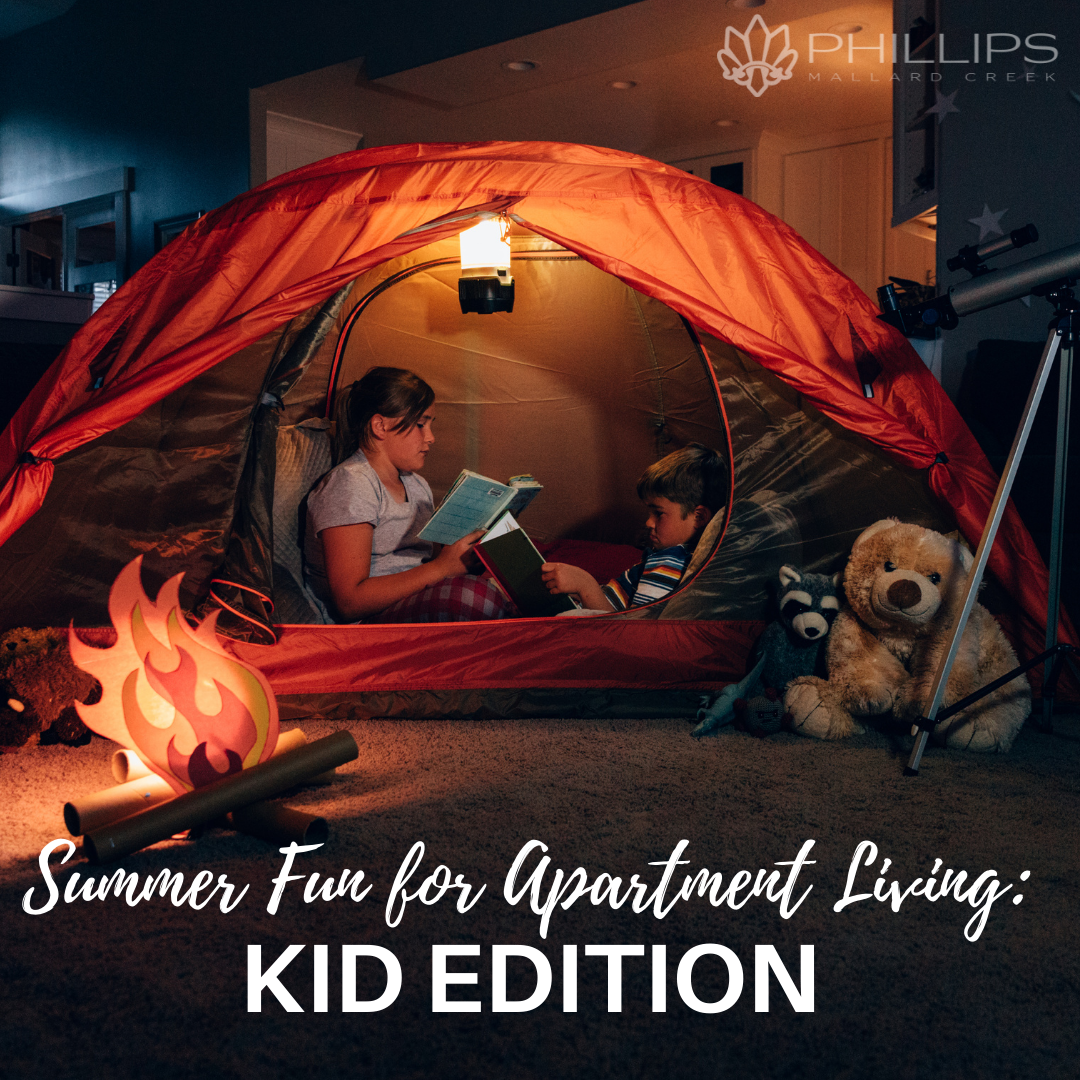 When summertime hits, it's so nice to have options for both outdoor and indoor play for kids. Being in a Mallard Creek apartment means that anything indoors, must be apartment friendly as well. Keep reading for some super fun and easy options for whatever strikes your fancy.
Play dough is a staple for non-screen related creative play. This recipe keeps you from having to slave over the stove to make it. If you have a stand mixer with a dough hook option, you are set! Add some essential oils and fun food dye, and you will have a happy alternative to heading outdoors. Small toys and kitchen tools are great accessories to enhance your Easy Play Dough experience.
If you've got a little guy or gal running around your feet, you have to try this Bubble Foam. Grab a big storage bin or use your dry bathtub and mix up a batch or two (or four!) and let them go to town. It's just basically tear-free bubble bath and water, so the clean-up is a breeze. Make sure you get your phone ready to take some pics as they have a blast in this Bubble Foam.
When your kids hit screen overload, it's usually time for them to move their bodies. This is just the thing. Blow up some balloons, grab some (clean) fly swatters and you're good to go. You could set up some boundaries and hit the balloons to each other, or put out some bins as goals, and move across the room without letting your balloon touch the floor. The possibilities are endless! Balloon Tennis is sure to be a hit with children at any age.
All you need for this activity is some marshmallows and toothpicks or raw spaghetti noodles. Let your kids go to town making towers, bridges, pretend scenes and anything else that their minds can come up with. Expand the options by introducing watercolors to paint the marshmallow creations or set some marshmallows aside to use as ingredients in crisped rice marshmallow bars. The sky's the limit for Marshmallow Building.
With some random supplies and a little imagination, this playset comes together in no time. Cork board, push pins, and rubber bands magically transform into expressions of pattern and beauty right before your eyes. Be sure to watch for any loose push pins and cork that is falling apart. You will love the different ways that your little ones stretch their ideas and create amazing patterns with these DIY Geoboards.
When you're putting together toy options for your children, it's good to consider the ways that it will stimulate their creativity. One category to look for is whether that toy is open-ended or not. This means that it has multiple uses, as well as a generic color scheme or neutral decorations. This list of options includes building sets, toy silks and an easel. You may already have some of these toys listed, and just want to highlight them the next time your children are looking for an activity in your Mallard Creek apartment. You will be amazed at how they put things together and enjoy time with their Open-Ended Toys.
This painting idea is so cool! Literally. Grab some neon paint, ice cube trays and a blacklight and you will be all set to create these "out-of-this-world" art pieces. The combination of frozen paint and black light is beyond the typical painting session. Don't get me wrong, painting is still a great expression for indoor activities, but talk about next level. You will love this Glow-in-the-Dark Ice Chalk for painting indoors. Try it outside at night as well and watch the colors light up with the black light.
Do you have happy memories around camping? Being able to go camping is the best! If you're not able to go, however, this camping printable is great to use in your Mallard Creek apartment. Just print out the food for roasting over the "fire" and create your indoor campfire using paper towel tubes and tissue paper. Sing some campfire songs and enjoy the simple pleasures of Indoor Camping.
This has got to be the best "toy" idea ever. Getting your kids to stay active AND set them up for a lifetime of cleaning skills??? Genius. You have to jump on this idea, whether you use the specifically recommended supplies or not. This DIY Kids Cleaning Kit may just be the best idea for you and for your kids to clean up your summer messes and have fun at the same time.
Last of all, this simple idea will inspire you to branch out past the initial suggestion of using carpet squares for hopscotch. Why not try your hand at foursquare? Or even tic-tac-toe? The best part is that these carpet squares stack up and are easy to put away or take out when inspiration hits to jump around a bit. Indoor Hopscotch will be your new best friend when it comes to low-clutter fun.
There you go. Your Mallard Creek apartment will be a fun zone this summer in no time. Get ready to have the best summer of your life, and make memories without feeling limited by the space you're in. Enjoy the time you have with your kids this summer in epic ways. You've got this.