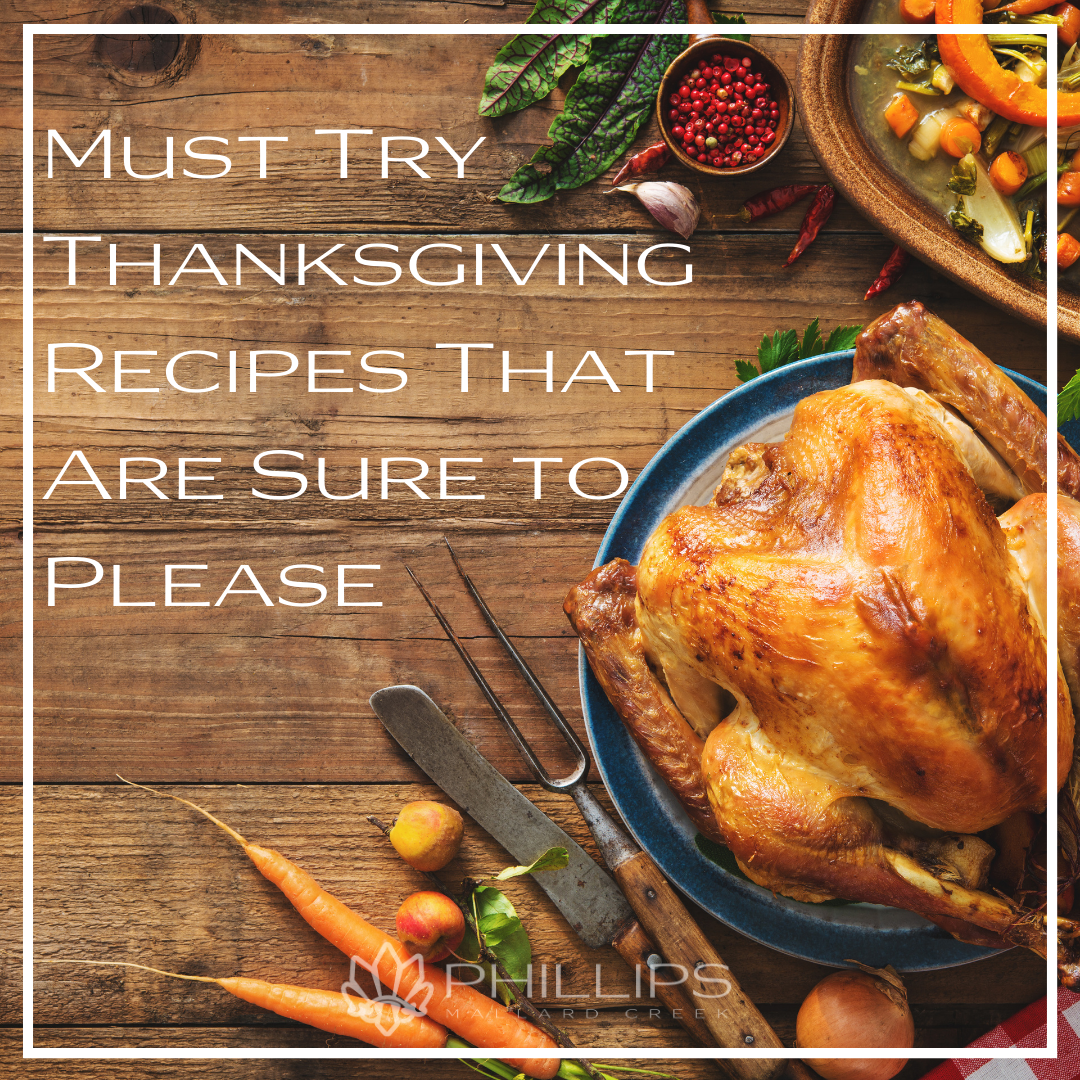 The leaves are falling, the days are getting shorter, and there is the hint of fall in the air, which means it is time to get your Charlotte, NC apartment ready for the holiday season! First up on the list is creating a meal plan for your fantastic Thanksgiving feast. No matter how big or small your Turkey Day celebrations will be, you need a few high-quality recipes to knock everyone's socks off.
Here you will find 10 must-try Thanksgiving recipes that are sure to please your hungry diners.
All About the Sides
For most people, a turkey at the center of the meal is a given. This means all the creativity of the meal comes in the form of side dishes! The five delightful side dish recipes will have your Charlotte, NC apartment smelling heavenly all day long.
Roasted Cauliflower with Toasted Panko and Golden Raisins
Everyone seems to be on a cauliflower kick lately, so it only makes sense to add some to your Thanksgiving feast. This recipe from The Modern Proper is not only low-carb and low-calorie, but it is also full of flavor! Cook and prep will take you about an hour, and the dish serves eight hungry feasters.
Fresh Cranberry Chutney
It is time to retire that canned cranberry sauce! Your guests will rave when you set this fresh cranberry chutney down on the dining table in your apartment. Full of warm spices, this dish is both sweet and tart to tantalize your tastebuds. Cook time is only 15 minutes, so this one is an easy recipe to add to your meal plan.
Flaky Buttermilk Biscuits
No southern meal would be complete without a biscuit for soppin'! This recipe will have people saying, "just like grandma used to make." This Flaky Buttermilk Biscuit recipe makes enough biscuits for 6 to 8 servings, but if you have a super hungry crew, you may want to double up.
Broccoli Cheese Casserole
Add another veggie side dish to deck out your holiday feast table with Broccoli Cheese Casserole. This one is full of cheesy goodness that is sure to please even the pickiest of eaters. You'll turn a pound of broccoli into a dish big enough to serve six. This one bakes for one hour, so plan accordingly.
Stovetop Macaroni & Cheese
A sure crowd-pleaser, this four-ingredient recipe will be a hit with attendees both young and old. Prep time is only about five minutes, and then you need just 15 more to get things hot and melty. This dish serves about six people, and it has an optional splash of sriracha if you want to heat things up!
Dessert is Where It's At
For many people, the Thanksgiving meal is just an excuse to eat the desserts. That is why any good host will ensure that there are two or three options to keep everyone satisfied. The good thing about pies and cakes is that they can be made the day before, freeing up the kitchen in your Charlotte, NC apartment on the big day for the turkey and sides! Here are five recipes that we think would make a stellar addition to your holiday meal plan.
Turtle Pumpkin Ice Cream Cake
Anyone can whip up a pumpkin pie, but how many people will have a turtle pumpkin ice cream cake on their Thanksgiving menu? You will make your friends and family gasp in surprise when you set this bad boy down on the table! Don't have a lot of time? No worries, many of the ingredients in this dish are store-bought to keep things simple.
Chocolate Pecan Piecaken
Who says you have to choose between a pie and a cake? You can have both when you whip up this decadent dessert! The chocolate pecan piecaken is the best of both worlds with its surprise middle layer that is sure to have everyone saying, "YUM!!"
Traditional Pumpkin Pie
If you just have to go with the classic, then this traditional pumpkin pie recipe is for you. (But there is always the option to switch the pumpkin for butternut squash if you want to give it a twist!) This one is best if you start the night before and let the dough refrigerate.
Turkey Cake
If you are entertaining some little ones at your Thanksgiving feast, then this adorable turkey cake will be just the thing. Using colorful feathers, Oreos, and MnM's as decoration, this dessert is as easy as it is adorable.
Easy Apple Crisp
Making this easy apple crisp will have your Charlotte, NC apartment smelling like a brisk fall day! Made with oats, brown sugar, and cinnamon, you will have to hold yourself back from diving in before your guests have a chance to arrive. Try slapping some vanilla ice cream on top for a truly delicious treat.
Now that you have these ten recipes in your arsenal, you should be able to put together a Thanksgiving feast to go down in the history books. Everyone is sure to leave stuffed — but happy! — after you present this spread.
Click here if you are on the hunt for more great Thanksgiving recipes!