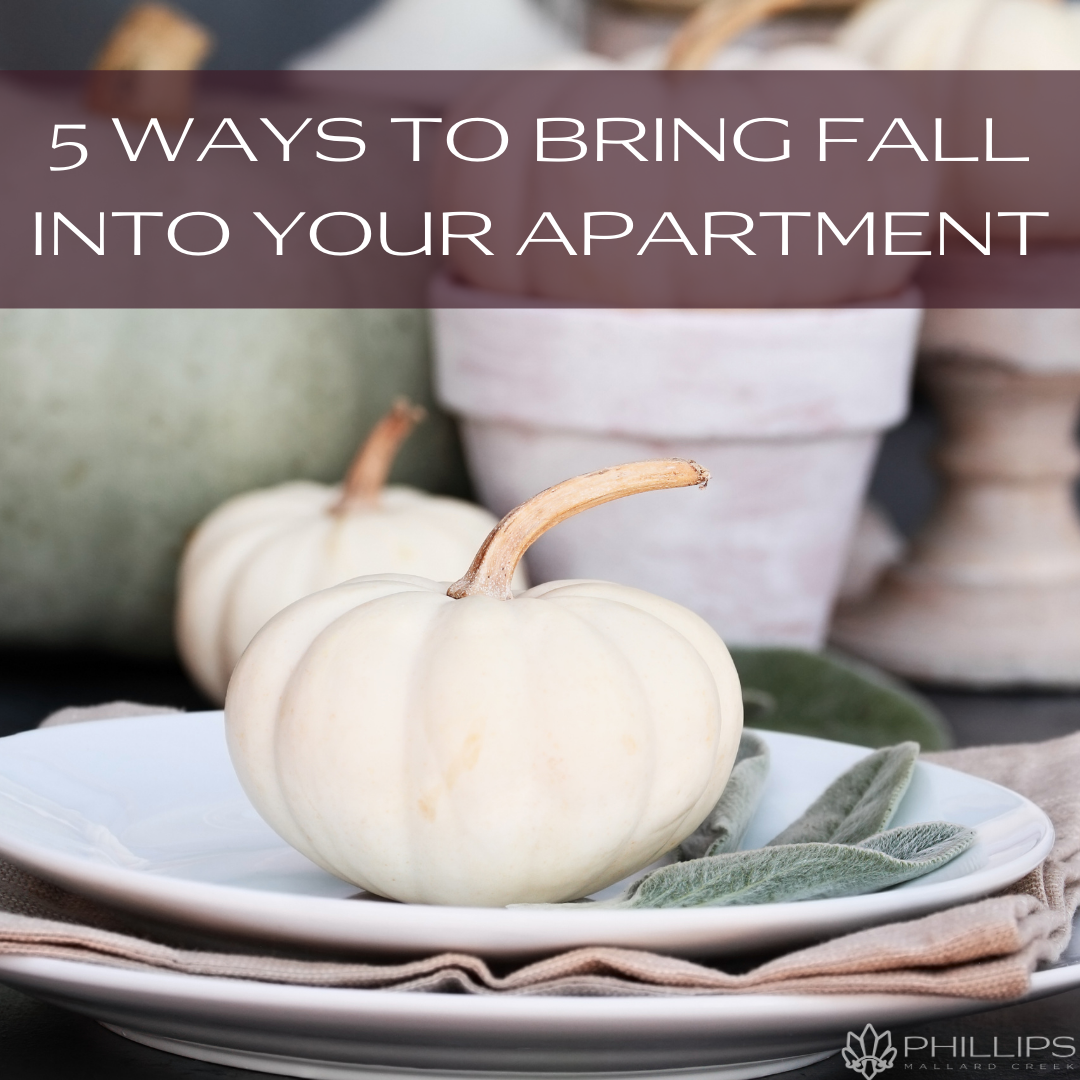 With fall in full swing, it is time to get your Charlotte, NC apartment looking like autumn. Adorn your space with a feast for the senses are you endeavor to make the most of this amazing season. Whether you are into spooky Halloween tricks or luxurious Fall traditions, there are so many ways celebrate.
Keep reading for five amazing ways to bring fall into your apartment.
Fall Scents
Layer fall into your dwelling by selecting a few of your favorite autumn scents. Whether you want to try your favorite
fall essential oil blend
, a candle, or air freshener, there are so many scents to enjoy.
Here are a few scents to consider:
Apple
Pumpkin
Spice (Cinnamon, Nutmeg, Chai, etc.)
Coffee
Pecan
Cranberry
Bake Goods
Nothing says fall like a fresh baked apple pie or some molasses cookies. Scour your favorite recipe resource to find a few new baked goods to try this fall. If baking isn't your thing, there is no shame in purchasing store bought bakery items. There are plenty of awesome bakeries in the University area to shop from.
Here are a few recipes you may want to try!
Pumpkin Spice Baked Donuts
Cinnamon Crackle Cookies
Apple Dumpling Bake
Pumpkins
How many pumpkins are too many pumpkins? In all seriousness, it just isn't fall without a few (or 15) pumpkins.
A selection of pumpkins that best represent your decor style is the best bet. There are so many varieties of pumpkins to choose. From white, to green, to yellow, to numerous shades of orange…. the pickings are so much fun. And don't forget about gourds!
Layer pumpkins into your decor for a natural effect. Whether you prefer a pumpkin centerpiece of a carved pumpkin at the front door… you just can't go wrong with this inexpensive fall staple.
Check out this article from Country Living titled, "25 New Ways to Decorate Your Home with Pumpkins".
Open the Windows
Hello. It's fall! Open those windows and let that crisp cool air fill your apartment. No other is this a great time of year to cut energy costs… but it also a great time of year to freshen up your space.
Open windows in several rooms to allow a cross-breeze. This will allow air to travel into and then out of your rooms, creating excellent circulation. If there isn't a breeze on the day that you can open your window, you can set a fan near your window to help with air flow.
There is nothing that will give your Charlotte, NC apartment that fresh fall feeling like a crisp fall breeze.
Adorn Your Door
If you have to select one spot in your apartment to decorate for fall, let it be your entryway. It is easy to hang a wreath on the inside and/or outside of the door and to lay down a festive door mat or rug. There are so many options when it comes to fall door decor. Whether you like classic or clowns… there is something for everyone to choose from.
There are thousands of DIY projects that you can source from Pinterest and other online sites. If DIY isn't your deal, then head over to your local Hobby Lobby, Michael's, or TJMaxx for a fun selection of wreaths and door mats.
Another great addition to your fall entryway is a mum or two. These colorful flowers won't last long… but they are quintessential fall.

---
No matter how you prefer to bring fall into your Charlotte, NC apartment, it is sure to be spectacular.
Residents should be sure to enter our Phillips Mallard Creek fall decor contest!
If you liked this blog post, you are sure to like Awesome Alternative Halloween Fun for All Ages!