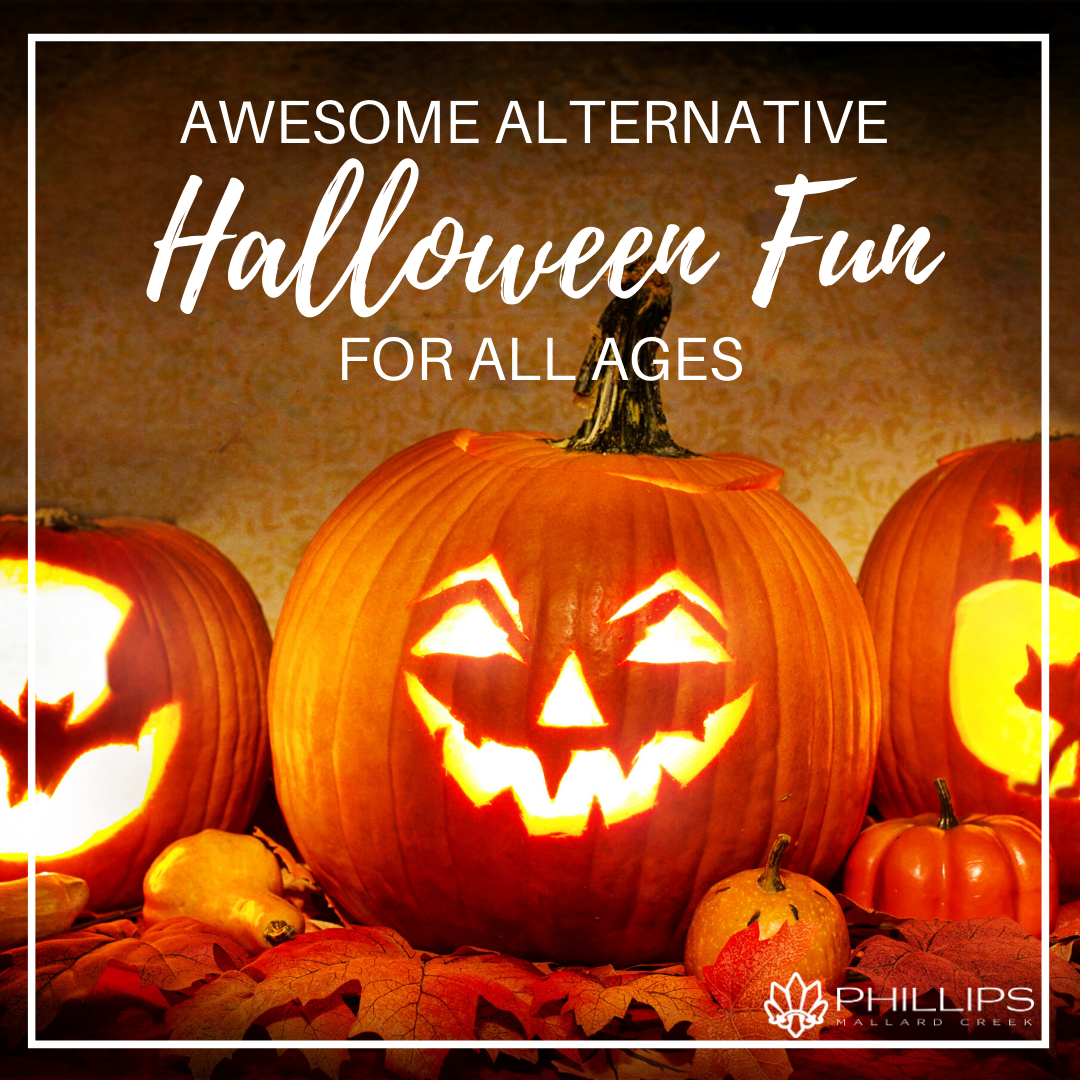 Halloween is one of the most fun holidays! With the spooky vibes, cool decorations and candy, it's a kid dream come true!
But what if your normal Halloween plans fall through? It may be too chilly or maybe there are no safe trick-or-treat locations nearby.
Don't sweat it! You have plenty of customizable options that you and your family can enjoy at home in your Mallard Creek apartment.
Halloween Pinata
Before the big day, you can prepare your own Halloween themed pinata with your choice of candy! You can head over to a lcoal party store and buy a pinata — or make one yourself!
If you make your own pinata, decorate it with one of your kids favorite spooky characters or evil villains, and then fill it up with candy you know that they love. If you want to steer clear of too much sugar, use other yummy food options that they enjoy!
DIY Home Decor
Now that your pinata is up, you can match the rest of your home decor to it. Visit a craft store and fill your bags with all the goodies you need to completely transform your Mallard Creek apartment!
You can make spooky tattered curtains with black fabric or a morgue door with foam core and paper. You can also stick silhouette cut outs on the walls and use mini pumpkins to add to the full Halloween experience! The sky is truly the limit here…well, that and your imagination.
Halloween Decorated Treats
You can eat more than candy on Halloween night! Give your family some alternatives buy baking some delicious Halloween themed cupcakes or a yummy pumpkin pie. You can add edible googly eyes to all of your pastries for even more silly, spooky fun.
Whip up some easy-peasy bat shaped PB&J sandwiches with Halloween themed cookie cutters. Then there are always the old faithful orange snacking options like Doritos and Cheetos that you can add to the table to make sure that you and the kids are never hungry. Click here for a list of one hundred Halloween themed snacks!
Arts and crafts
After all of the hard work you put into the pinata, decor, and food, it's time to let the kids tire themselves out while enhancing their imagination! Use your remaining DIY materials (and any arts and crafts supplies you have lying around) and let them draw and create to their heart's content.
If your kids are little and need more structure, you can buy craft projects online or get some Halloween coloring books. Older kids may just want the arts and craft supplies to create their own designs.
If you are having an adult only party, you can turn art time into crafting cocktails time! Each of you can craft your own fall-themed cocktail, and then do the ultimate taste-off to see which one is the winner.
Bob for Apples – or Doughnuts
When all of the crafts are done, the kids may still have some energy. Why not head outside and play bob for apples – or donuts if you don't mind the sugar! Hang the apples or donuts on a tree branch from a string and you and the family can have a fun hands-free snack. But don't be surprised if your festivities bring out a few or your Mallard Creek apartment neighbors!
Mini Pumpkin Hunt
If you are ready to head back inside for a bit, a mini pumpkin hunt is a great way to keep the kids occupied around the house while you gather your bearings! This is where the mini pumpkins that you and your kids paint during arts and crafts time can come in handy.
Hide them in safe places around the house (just like Easter eggs) and have a blast trying to find them. You can even give out a prize to the person who finds the "special" pumpkin!
Trunk o' Treat
If you want to take the kids out with friends and family, without worrying about knocking on strangers' doors, you can try a Trunk o' Treat. This is where each person parks their cars in an empty parking lot or cul-de-sac, and the kids go "trick or treating" from car to car.
Each truck can be decked out with Halloween decor to increase the fun factor. If you check around, churches or community centers near your Mallard Creek apartment may be sponsoring these types of events — but there is no harm in organizing your own too!
Drive-Thru Haunted House
After a Trunk o' Treat, a quick stop at a drive-thru haunted house is a fun and scary option for those who can stomach scares. These are typically labeled as haunted trails and can usually be found in more rural areas around the city. Some will let you drive through in your own car or do a hayride type drive (although some may be walk-thru).
Halloween Movie Night
By the time your full Halloween day has passed, and it is winding down to bedtime, a Halloween movie of your choosing can send the exhausted family off to sleep together. Something light spirited and fun may be a better option for younger children, but if you have a gutsy family, a full-on old-school horror may be the better choice.
---
Whether you are doing every activity or choosing one or two to have with your family, there are so many fun alternatives that you can participate in from the comfort of your Mallard Creek apartment, you may never go back to regular old Trick-or-Treating again!
Looking for another great Fall inspired blog post to read, check out "How to Stay Healthy This Fall in Your Charlotte Apartment".