Summer… most people love it! The days are longer, the weather's perfect for splashing in cool water, and the kids are out of school. While Summer may look a little different this year, that doesn't mean it can't be just as fun! Our blog post has everything you need for keeping your kids happy and having a blast this Summer, right at home in your Charlotte apartment!
Grow A Butterfly Garden
Looking for a super fun AND educational project for your kids this Summer? A butterfly garden is the way to go! Simply buy your kit online (like this one from Amazon and watch your kids delight as their teeny caterpillars turn into beautiful butterflies right before their eyes! It's the perfect way to combine fun and learning and your kids will love watching their butterflies grow.
Grow Fresh Herbs
Kids love to get messy and what better way to let them play in a little dirt while also being productive than by growing a small indoor herb garden? There are endless possibilities for this project and the cool thing is once the herbs are thriving, you can actually use them for cooking!
Bird Watch
Bird watching is a fantastic way to spend a lazy Summer morning or afternoon! There are so many beautiful birds that can easily be observed from the comfort of your Charlotte apartment's porch or balcony and there are tons of ways to turn your kids birdwatching into a project. Have your kids photograph the different birds they see and make a Summer birdwatching scrapbook! Be sure to have a birds of North America field guide handy so your kids can learn all about the birds they're spotting.
Have a "Camp In"
If outdoor camping isn't your thing or you just don't have the space, how about throwing your kids a fun-filled "Camp In!" Your kids are sure to love this super fun activity and you can get as creative as you'd like. Build a tent out of chairs, sheets, and pillows, eat hot dogs for dinner and S'mores for dessert, and don't forget the star-gazing! You can either stick glow-in-the-dark stars on the ceiling or buy a small star projector online. The possibilities are endless and this is sure to become a Summer fav!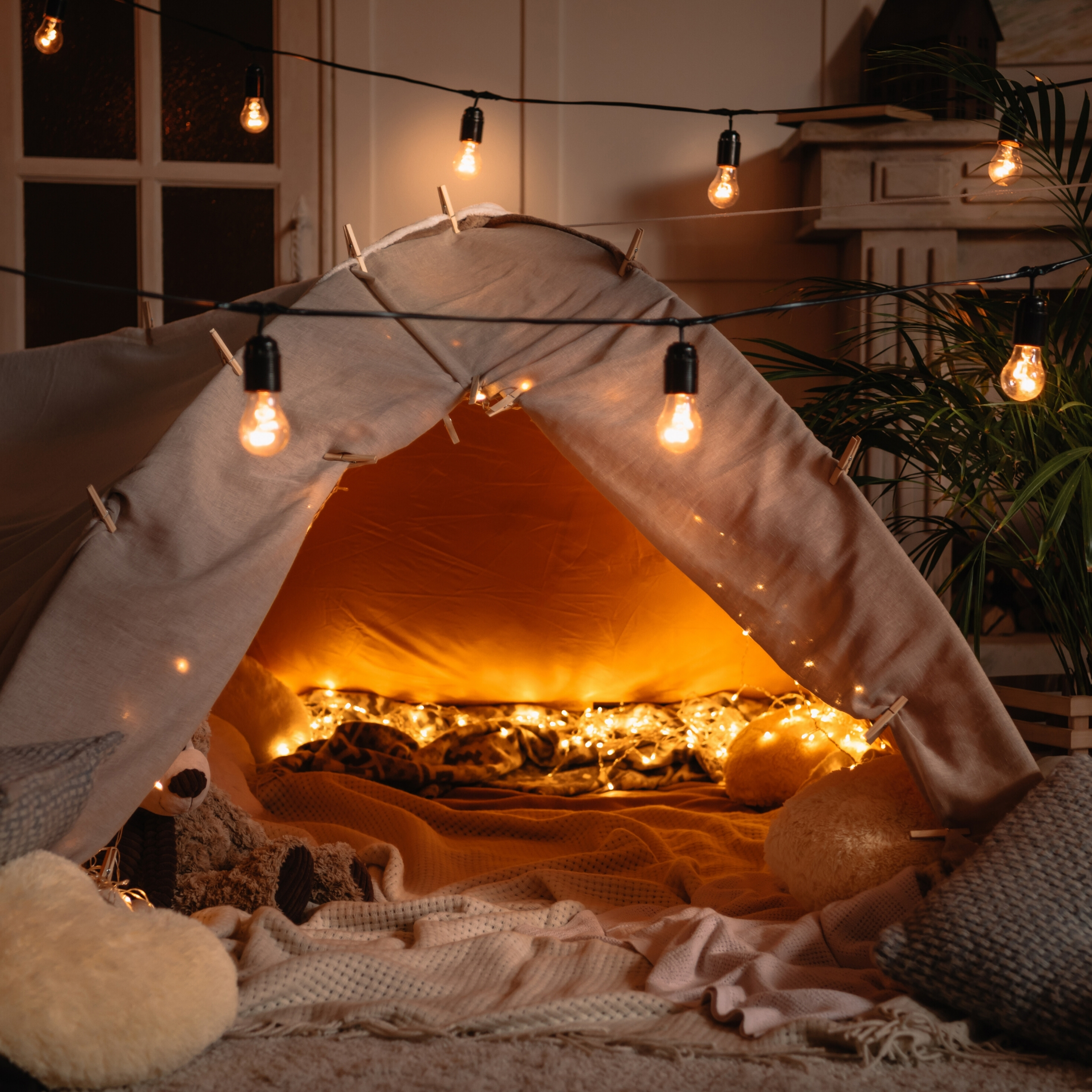 Have Your Kids Set a Goal
Whether it's to learn a new instrument, recipe, or master something they're already interested in, having your kids set a goal this Summer is a great way to encourage learning and self- discipline. You can even offer a special prize for when they achieve their goal to add a little extra motivation. Your kids will be so proud when they reach their special Summer goal!
Water Games
We can't think of a better way to cool down and have a blast in the Summer than by enjoying a few water games! Water balloons, squirt guns, slip-n-slides, you name it… Summer is simply better with water! Not only will this get the kids outside and soaking up a little Vitamin D, but it's something the whole family is sure to love! Need a few water game ideas? Check out this creative list!
Go Fishing
Fishing is an amazing way to spend time together, enjoy being outdoors, and learn about nature. North Carolina is loaded with amazing fresh and saltwater fishing options that are sure to bring tons of smiles to your kids faces! Not only is fishing super-fun, but it's also a valuable life skill, so grab your rod, some bait, and reel em' in! (Don't forget your fishing license.)
P.S… Can't actually go fishing? Set up "pretend fishing" in your Charlotte apartment's bathtub! Tons of fun, kid-friendly fishing rods and fish are available online (like this one) for hours of fun!
Stargaze
Grab a few blankets, a star map, and head outside at night to enjoy one of nature's most spectacular wonders… stars! Stargazing is relaxing, fun, and provides your children an excellent opportunity to learn about our constellations and solar system. Hopefully, you'll see tons of shooting stars and your kids are sure to love watching them light up the night sky!
Let Your Kids Cook Dinner
What's the one question every parent hears every single day? It's what's for dinner. As a parent, planning dinner every night can get a bit monotonous, so shake things up and let your kids plan and cook dinner! Let your kids plan the menu, shop for the ingredients, and cook dinner all on their own (of course with your supervision.) If your kids are smaller, they'll enjoy wearing a chefs costume or apron if you already have one handy for even more fun!
Do a Service Project
Teaching your children to have compassion and to serve others is a fundamental value. Teach them in a fun way this Summer by encouraging your kids to do a service project! Things as simple as baking cookies for a neighbor, sending cards to the elderly in retirement homes, or helping someone in need of simple yard jobs are all great and easy ways for your kids to learn the importance of serving others.
We hope we've inspired you to get creative, have a blast, and make awesome memories with your kids this Summer. Philllips Mallard Creek Apartments are the perfect spot for enjoying Summer fun with your kids, especially in our sparkling swimming pool (hello, water games!) Leave a comment and let us know what you'll try.