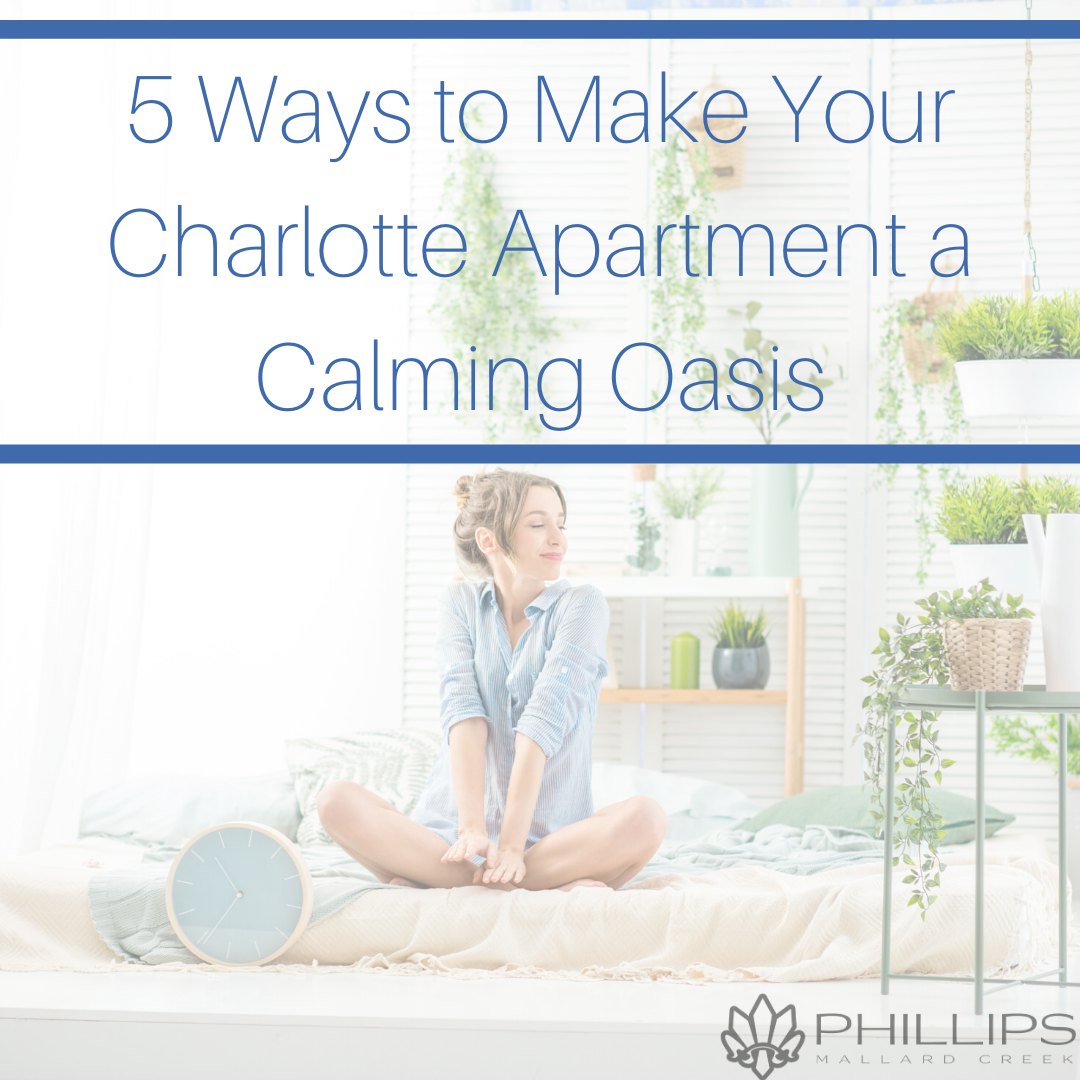 Despite what is going on in the world around us, many people would like to come home to a stress-free home. Your Charlotte apartment can you a place of respite and sanctuary with just a few tweaks of your decorations, routine, and attitude.
Are you ready to escape the crazy world around you?
From Feng Shui to Hygge, there are many disciplines for ordering the mood of your home. We have a short list of 5 way you can make your Charlotte apartment a calming oasis. These concepts are easy to implement and achievable for anyone.
What will you do to create the peaceful living space you desire?
Houseplants
Houseplants for your apartment are an easy way to bring life into your apartment. A myriad of greens can grace your space, creating an atmosphere of garden tranquility.
Use natural light to bath your new plant friends and to brighten your rooms. Even the act of watering your plants can create feelings of calm. Set aside a special time to tend your plants that is quite and calm. This routine can become something to look forward to that nourishes not only the plants… but also your soul.
Scent
There is nothing better than opening the door to your apartment and being invited in by a lovely fresh scent. Each individual has unique preference when it comes to which scent they prefer. Are you a crisp linen, warm apple pie, or bright citrus kind of person? Whatever your preference, be sure to invoke feelings of welcome and harmony.
Candle, wax warmers, incense, all-natural spray, and essential oils are just a few ways to add your favorite scent to a room. Your cleaning products are another easy way to add a pleasing aroma to your home.
Declutter
Clutter can be a stress inducer for many people. Take charge of your clutter with a weekly or daily decluttering routine. Don't try to conquer all your clutter in one day. That is more than likely to induce stress instead of dissolve it. Chip away at clutter one area and one day at a time. Celebrate your small accomplishments by enjoying the new space that you have created.
A clutter free area will inspire tranquility.
A Cozy Corner
When you were a child, did you have a special spot where you felt warm and cozy? A favorite place where you could read a book or whisper with a friend? Create that same feeling in your adult space.
Whether you prefer a cozy reading nook with an overstuffed chair, good lighting, and a little take to perch your coffee or hot tea… or a corner filled with a plush rug and piles of pillows where you can stretch out to flip through magazines with a glass of wine, prepare a place for yourself.
Sound
Some people prefer silence while others enjoy the beat of their favorite songs. Sound is another great way to bring a sense of peace to your Charlotte apartment. Soothing sounds could include jazz, a wave machine, or even the gently hum of a fan.
Fill your space with sounds that work for you to create the stress-free atmosphere that you desire.

---
Now you are ready to escape the hustle and bustle of the daily grind. We would love to hear how you are creating a peaceful oasis in your apartment. Be sure to share with us on Facebook!
If you enjoyed this blog post… we think that you will also enjoy "How to Make Your Charlotte, NC Apartment Feel Like a Home".