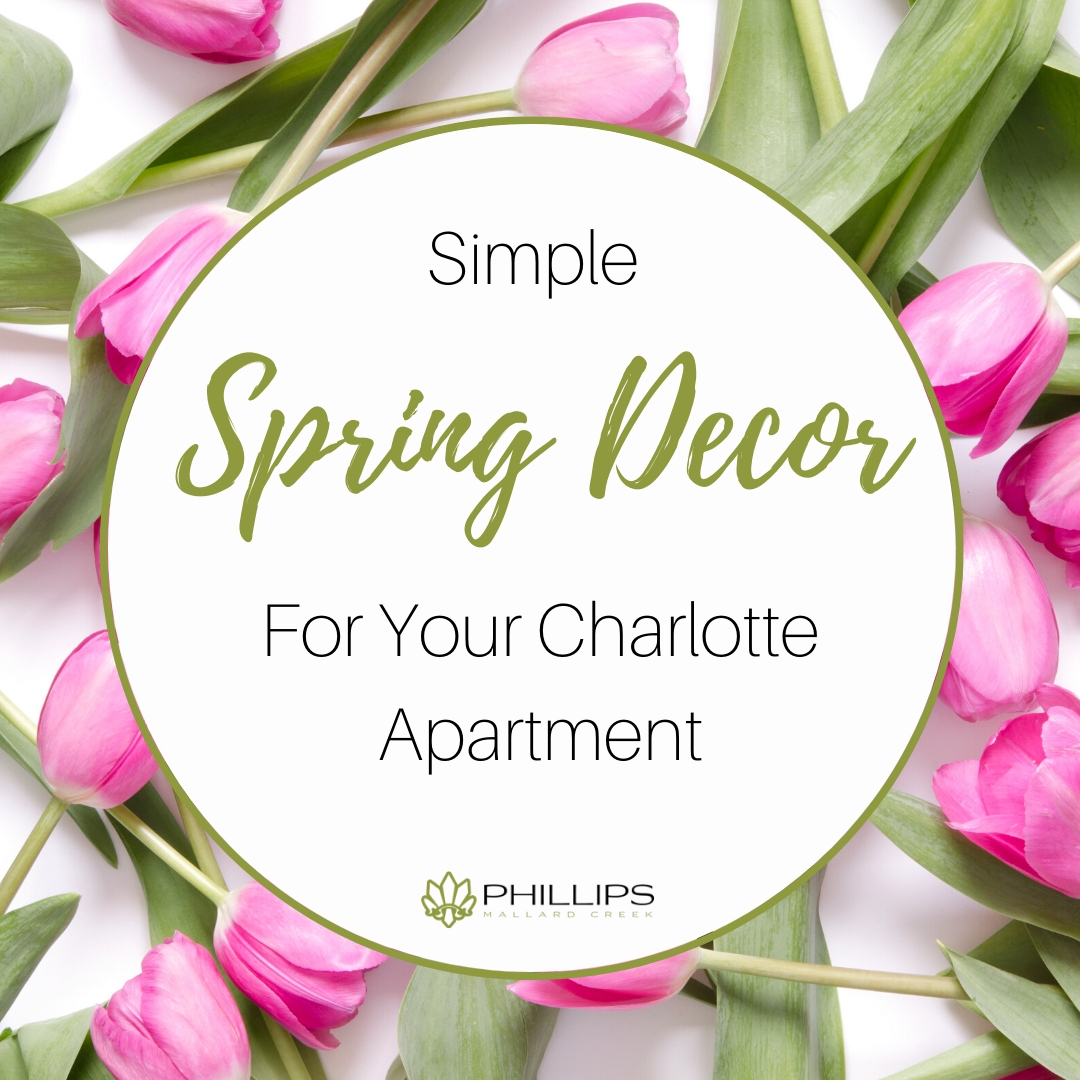 There's something about spring that makes everyone yearn for cleaning out the old and bringing in the new. It's as if the anticipation of warmer weather after months of gray skies and cold days makes you start to incubate and hatch ideas of renewal and rebirth in all areas of your life. Those new ideas definitely include your Charlotte apartment!
Sure, upgrading and updating your apartment can sometimes feel limiting. You can't put in permanent installations that will leave scars on any of the surfaces. You definitely can't remodel by tearing up or building new room divisions…but that doesn't mean you can't let the seeds of creativity grow!
The truth is, you don't have to do major renovations, extensive remodeling, or expensive carpentry to put a fresh spin on your Phillips Mallard Creek apartment just in time for spring. Some simple, easy to implement ideas can bring fresh and welcome changes to your living space. Sometimes subtle tweaks that take an hour or two are all you really need, but there are also weekend projects for when you want to make a bigger splash–most are inexpensive and budget-friendly.
Follow these tips and make your living space cheerful and effortless just like the spring season.
Bring more nature in.
It's the season when dormant seeds start to sprout and flowers begin showing their true colors. So, that means, it is time to bring some lush plants indoors.
Not only will potted friends help cheer you and your household up, but they can also help temper indoor pollution. Besides, Feng Shui experts say that plants can break the flow of negative energy while raising the positive energy vibes of your living space, if you need even more convincing.
Those with a green thumb, go ahead and choose flowering plants, but those that need low-maintenance greens should opt for cacti or succulents. (You can still get your shot of color by using a decorative terracotta or ceramic pots.) An excellent alternative to potted plants you have to care for would be displaying dried herbs or branches of eucalyptus. You can arrange them in a lovely vase to give your apartment a sophisticated vibe.
Lighten up on the colors.
Dark reds and somber browns may have suited the colder months, but with the extended daylight hours and warmer temperatures on the horizon, it's time to lighten up.
You can opt for light, pastel hues in bits and pieces. A throw pillow here, and a placemat there. Take down your heavy winter window drapes, and shift to sheer or light-colored curtain that will allow in more of the mood-uplifting light.
Changing out your sofa would be a great update to your Charlotte apartment, right? However, that may be a little extreme! Instead, you could opt for a new sofa cover or exchange your throw pillows with fresh ones.
Let the colors of the season guide you – yellows, peaches, and blush pinks. Step out of your Charlotte apartment and visit the Daniel Stowe botanical garden for inspiration if you need it.
If you really want to make a statement, find a piece to the furniture in an eye-popping color (think fuschia, bright purple, or teal). This accent piece will definitely be the thing guests immediately notice upon entering. You can also change the shades of your lamps to a lemony or sunnier shade.
In the kitchen, switch the tablecloth from the plaids or deep greens you had in place for the winter months, and opt for one printed with spring icons like leaves or floral patterns. If you aren't a table cloth kind of decorator, you can do a vivid runner instead to give that special pop of color.
In the bedroom, you can upgrade the quilts and comforters with something pastel or spring-themed, and complement it with matching pillowcases. Sometimes, a small splash of color is all it takes to chase the ordinariness of a room away.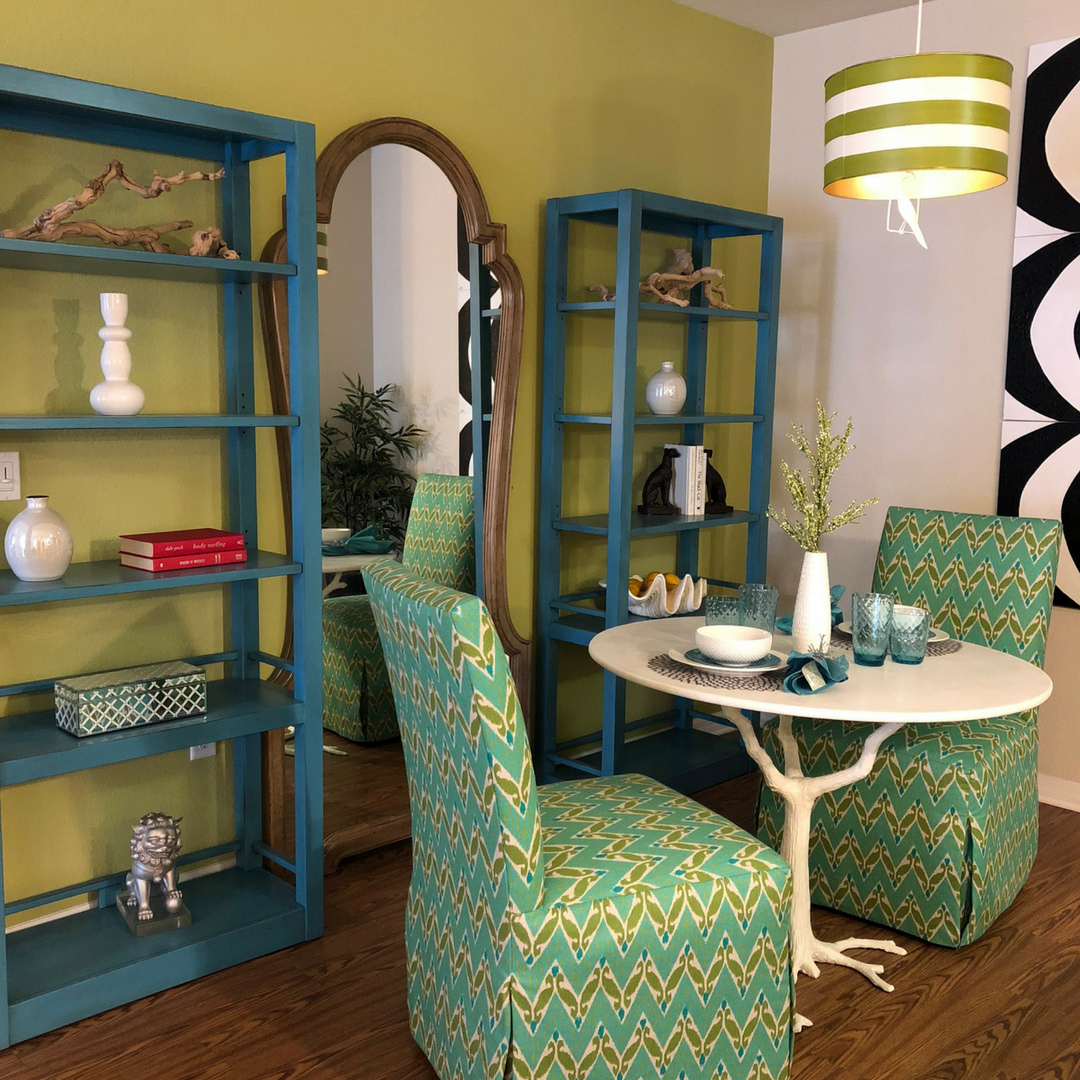 Fill in the blanks.
How about hanging something on the walls. Find a good conversation piece like a pastel abstract painting or an airy spring landscape scene. The sky is the limit when it comes to art. It could be something you crafted yourself or picked up at the flea market.
Want a fun spring project? One of those weekend ones? Then you could do a bookshelf update. Spend a few hours painting your bookcase to a fun and exciting new color. You will be surprised how much it will change the room.
Another good alternative to repainting walls is using those popular easy-to-peel wallpaper stickers. Again, take your cues from nature's spring colors and patterns: olives, drab yellows, light blues; flowers, floral brushes, and the likes.
Give the floor some love.
Walls receive so much of our attention, but our floors can sometimes be neglected in the seasonal transformation process. Take a good look at your flooring and imagine how you can use it to complete the spring makeover look you have in mind. Pick a few brightly colored area rugs or throw rugs. You will definitely want to pick out a new mat for the front door!
Follow these easy spring décor ideas for your Charlotte Apartment and welcome the warmer, brighter days ahead with open arms.
If you are looking for more great Spring ideas for your apartment, click here.