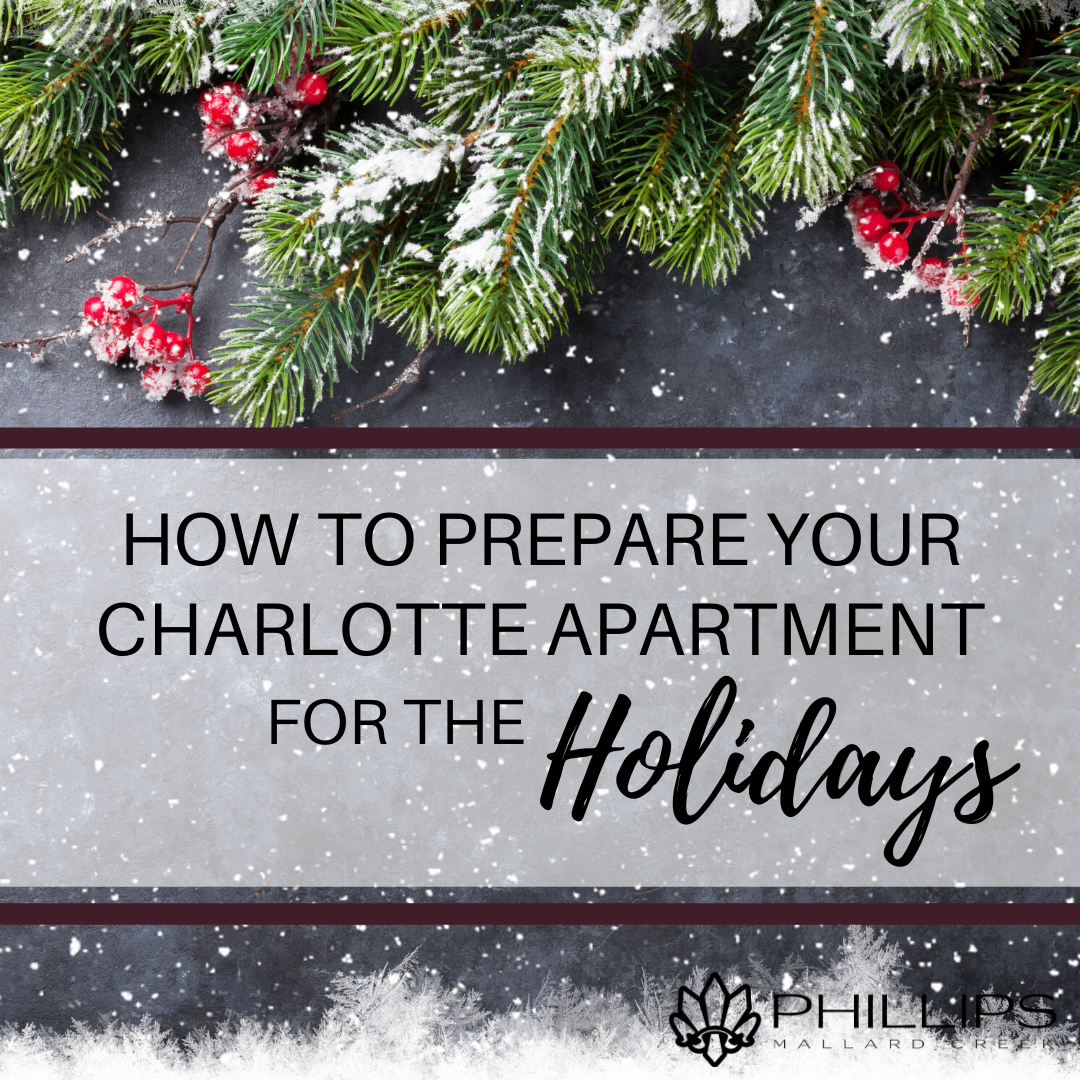 It may feel as if summer just ended, but the holiday season is rapidly approaching. It is time to start thinking about those big family meals, getting the decorations up, and checking off your gift list. There is so much to do to get ready for the season, it can often feel a bit overwhelming.
There is no need to stress, however, because this list will help you get everything perfect. From getting your Charlotte apartment ready for the company to managing all of your shopping needs.
Prepare for the holiday season with these tips!
Tidy Up
Before you start lugging all of your holiday decorations out of storage, you will want to make sure that your apartments are spic and span. It is a whole lot harder to clean once the tree, wreaths, and other holiday items are in place. Start with a fresh slate, and you will find that getting your decor perfect will be so much easier.
Not sure where to start? Even in a small Charlotte apartment, a deep clean can seem like too big a task. This pre-holiday cleaning checklist will help you get things sparkling in no time.
Designing Your Decor
Once everything is gleaming, you can start to think about your holiday decor ideas. It is best to start with a general plan before you start pulling out all the holly and tinsel. Having a decorating theme in mind will give you direction, and it will help prevent your Mallard Creek apartment from looking like the decor section at the nearest department store.
If you can do an inventory of your decor items, it may make it easier (and more budget-friendly) to plan your theme. There are plenty of directions that you can go in. Some people go with the classic reds and greens, but there are also other color schemes like gold, silver, or even teal that can look amazing. If you need some ideas, here is a fantastic gallery of holiday decor inspirations.
Planning Your Menu
When you are the one doing the holiday entertaining, there can be a lot of pressure to pull together an outstanding meal for your friends and family. Entertaining is never simple, but with a little bit of planning, it can go off without a hitch. The first thing you want to do is set the tone of your meal. Are you going to go with a laid back, help yourself buffet? Will you opt for the family-style dishes on the table meal? Do you want an elegant and upscale event with catered service? Will you go with traditional dishes and sides or do you want to go off-book and try new recipes?
Once you set your tone, you will have an easier time choosing your menu. It is a good idea to plan each of your recipes well in advance. This will ensure that you fully stock the kitchen in your Charlotte apartment with the needed ingredients and cooking utensils. You don't want to be elbow deep in a dish only to realize that you don't have the spice the recipe requires, or realize that you can't finish a dish because you don't have the right kind of pan.
Another thing that you can do to make sure that everything goes smoothly the day of the celebration is to prep as many of your ingredients as you can. Vegetables can easily be chopped and ready to go. Remember to plan for thaw and marinade times for your meats as well.
Shop Early
Another way to prepare for the holiday season is to get your shopping down as soon as possible. This applies to both your gift and your grocery shopping! Obviously, you won't be able to buy all of your meal ingredients well in advance, freshness is always more important. Yet, having your shopping lists written in advance so that you aren't scrambling when you are already stressed out will help wonders. It will likely prevent you from forgetting anything important in your rush too.
As for gift shopping, make a plan to have everything bought and wrapped at least one week before the big day. This will ensure that you have room to breathe before your apartment gets swamped with all your family members and invited friends. Then if something comes up unexpectedly, you won't have to worry because everything is already under control. Also, the stores only get busier and busier as the season continues. Use this printable holiday shopping list template to keep you organized. It will also keep you from forgetting someone important!
---
With enough preparation, the holiday events at your Charlotte apartment will go off without a hitch. Follow these tips, and you will be well on your way to the best holiday season ever. Your friends and family will think you are an old pro. Just don't do the job too well, or they may want you to host the season every year!
Looking for more holiday tips, check out blog post about how to stay safe during this season.