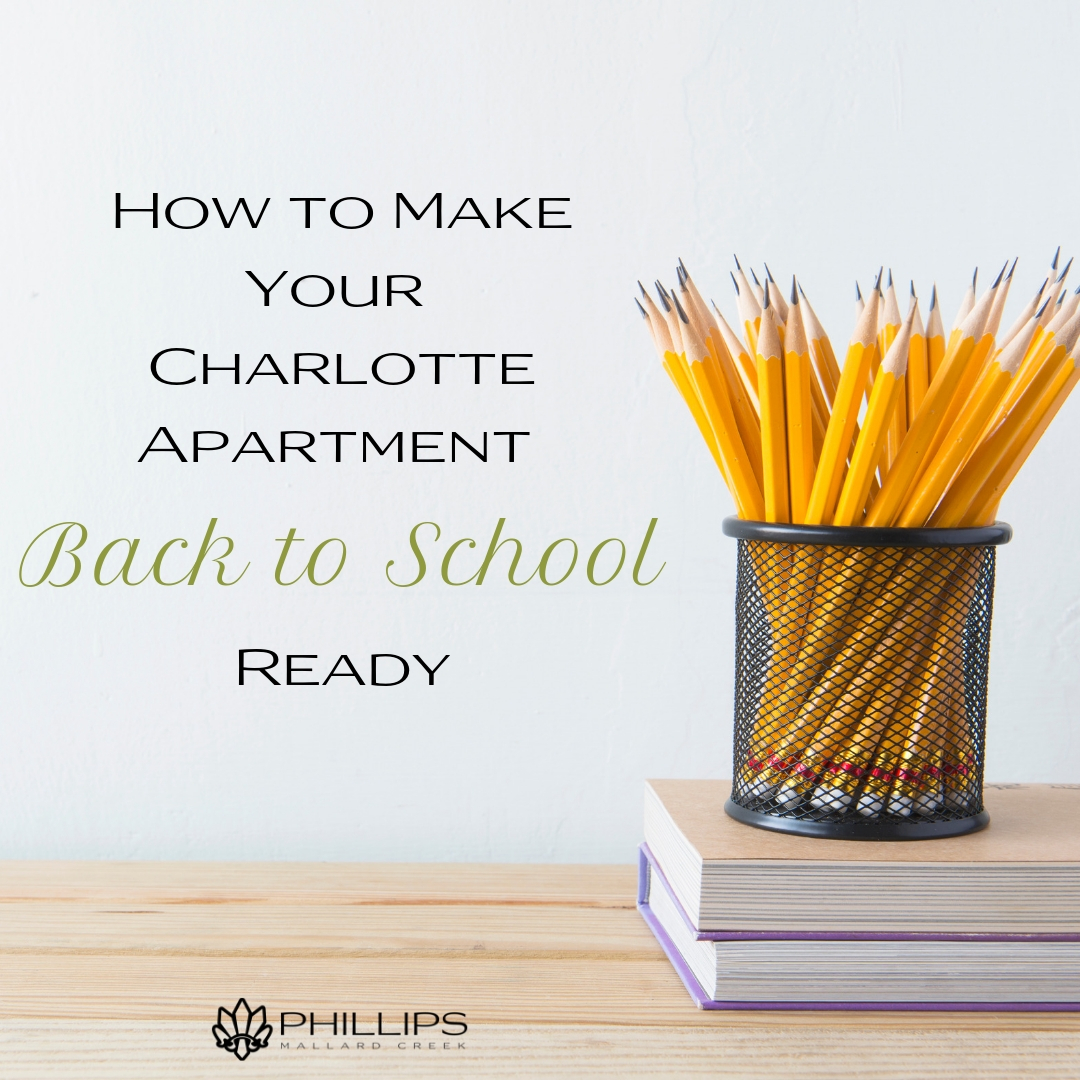 It's every parent's favorite time of year… Back to School! As much as you surely love your little darlings, there is just something about the routine of the school year that makes the household run so much smoother, right? As the evenings cool off a little, and the pool will get closed down in your Charlotte apartment, you need to get your place ready for the busy school days ahead.
Luckily, there are plenty of things that you can do to keep everyone from feeling overwhelmed once the days of packing lunches and doing homework begins. Follow these tips, and your Charlotte apartment will be ready to send the kids off to school once again.
Organize the Closets
Make getting ready in the mornings a snap by ensuring that everyone's closet is cleaned out and organized. Get rid of any clothes that no longer fit and switch out the summer stuff that isn't appropriate for the school year. (Even though it may still be crazy hot the first month or two of the year, most schools won't allow kids to wear tank tops or flip flops!)
You can find some great tips on getting everything organized and in its place here. This mom has a few great ideas on getting the closet ready that will also save you some money while school shopping.
Don't forget that Phillips Mallard Creek apartments has amazing walk-in closets in every unit!
Create a Library
No matter what grade your child may be going into this year, chances are they will need to read plenty of books. So, why not create a little library space for them? If you have plenty of room in your Charlotte apartment, you can add a few bookshelves and a comfy reading chair.
However, if you are a little strapped for space, one of these rolling carts from IKEA is a good place to store your kid's books. It can be painted to match the decor of the bedroom, and it is easy to move around while cleaning up.

Make a Dedicated Homework Nook
Having a quiet place to retreat to when doing homework is crucial. There are so many distractions in your Charlotte apartment that will keep your kid from finishing those math worksheets or memorizing those spelling words. Other siblings, the television, or even you in the kitchen cooking dinner can be enough to distract a child which is why having a homework nook is such a great idea!
Make sure you stock the area with all the needed supplies like pencils, paper, a calculator, and crayons or markers. This will prevent your child from wandering off in search of supplies and getting distracted by a video game or a Lego set. You can find some great ideas on setting up your own homework nook here, here, and here.
Make a Spot for Needed Items
Nothing slows down the before school rush like frantically searching your Charlotte apartment to find your child's shoes or backpack. Give that craziness up this year by creating a spot for storing all the needed items such as school shoes, backpacks, lunchboxes, and important paperwork.
Every afternoon when your child gets home from school, have them put their things in "the spot", and you will never be left searching for them the next day. Some people refer to this as having a command center, but even if you don't want to get that fancy, a simple basket on the floor will do.
Set Up a Lunch Station
If you want to enlist your children in the lunch-making process, it is not a bad idea to create a lunch-making station. This gets all of the things needed to create a healthy and tasty lunch in one spot, and it makes it easier for your little ones to be proactive in the lunch process.
To make this work, you will need a few storage baskets and a lower spot in your kitchen cabinet for storing your supplies. You will find complete instructions on setting one up here, but it is super easy to customize in order to make it work for your family.
Some people opt for adding the same type of system in the refrigerator as well to handle the cold items. Bonus! These stations can also be used for after school snacks as well because you know the first thing they want when they walk in the door is a snack!
Create a Daily Schedule
Things will go so much smoother every day if your kids know exactly what to expect. That is why a lot of parents opt for creating a daily schedule that is easy for everyone to follow.
You can make something super easy and adorable like this Routine Chart, but it can also just be written on a chalkboard or a laminated piece of paper. For those kiddos not yet able to read, you simply add pictures or drawings of the activity. Everyone will stay on track and organized which means less nagging from you in the mornings.
The School Year is Here!
It is time to get back to the daily grind of the school year, but that won't cause any problems in your Charlotte apartment because you have all these tips on your side. From everyone at Phillips Mallard Creek, we wish everyone a very happy 2019-2020 school year!