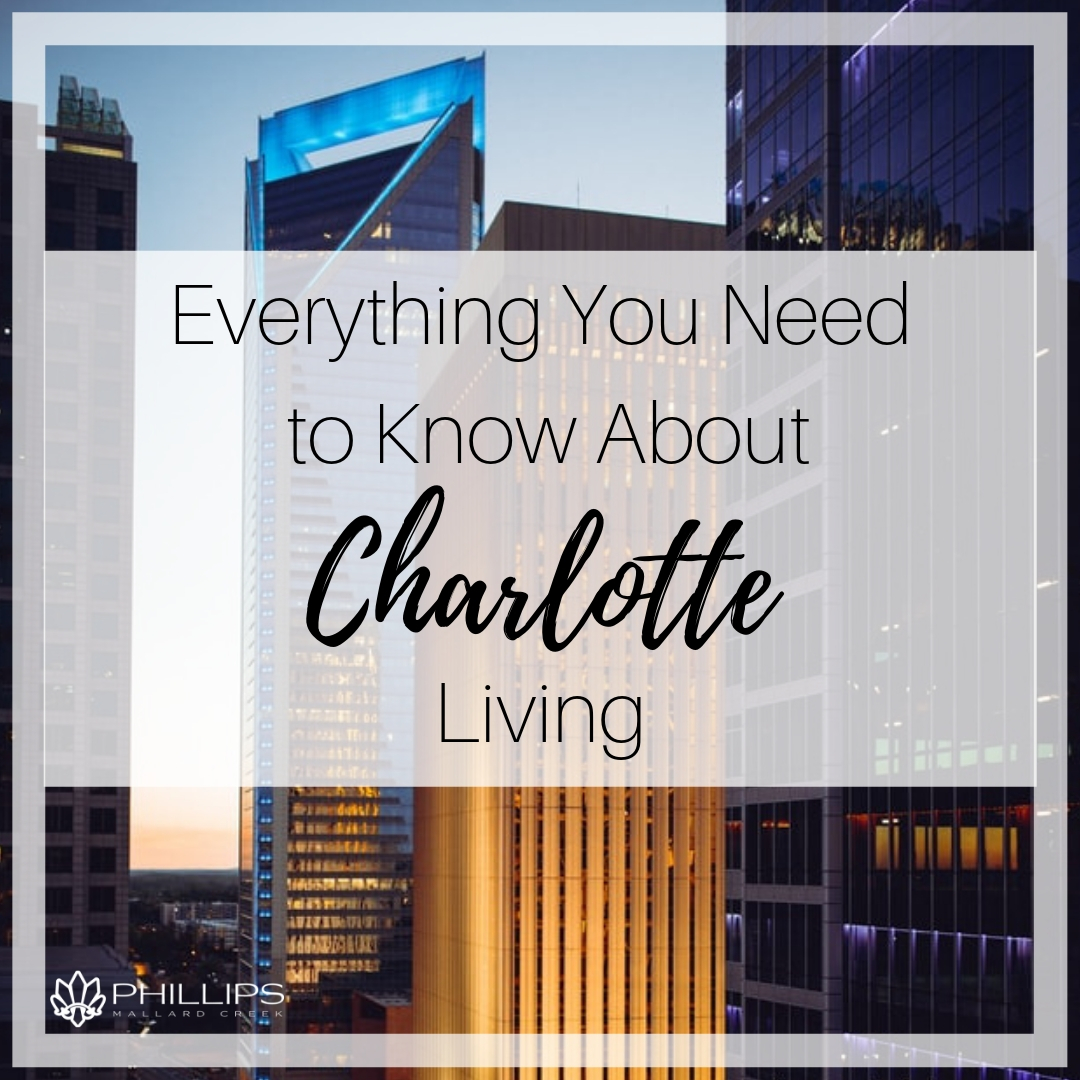 If you are making the move to Charlotte, NC or you have already found yourself a Charlotte apartment, then you know that the city is often lauded for its Southern hospitality. Yet, there is more than just the politeness of its people to recommend this city. In fact, there are a ton of reasons why so many people want to call Charlotte home.
Here is a everything you need to know about Charlotte living, whether you are considering relocating or you already call the Queen City home.
Jobs
The job market in Charlotte is pretty hot, especially if you work in the banking or the health care sector. Uptown is the home to the Bank of America headquarters, and you will also find other large corporate offices for Wells Fargo, Ally, and several other financial institutions.
There are two major healthcare conglomerates with facilities dotting the city. Both Novant Health and the newly merged Atrium Health have multiple hospitals, doctor's offices, and urgent care clinics around the city. There are also two large ophthalmology firms, OrthoCarolina, and lots of other smaller clinics scattered around time.
Setting out from your Charlotte apartment, you will be able to find plenty of sporting events to enjoy. The city has its own NFL team, the Carolina Panthers, and there is an NBA team, the Charlotte Hornets.
In addition to the pro sport options, there is a minor league baseball team, a hockey team, a soccer team, and even a roller derby team. Not to mention the college options that abound. Plus, the NASCAR Hall of Fame can be found in Uptown, and the Charlotte Motor Speedway is only about 30 minutes from town depending on where you live.
Outdoor Activities
There are plenty of fun times to be had in very close proximity to your Charlotte apartment. This city has either a park or a greenway every few miles, and the surrounding area is full of outdoor adventures.
The U.S. National Whitewater Center offers Charlotteans a place to cool down and have fun in the summer months. The facility offers whitewater rafting, stand-up paddle-boarding, flatwater kayaking, and a climbing wall that ends with a splash in the pool. For those that don't want to get wet, there are zip-lines, ropes courses, and biking trails to explore. All summer long, the USNWC has River Jam on Saturday nights where people can hang out and watch the live bands. Admission to River Jam is always free, but the parking costs $6 per car.
Other outdoor areas include Lake Wylie and Lake Norman where people can go swimming, boating, or just hang out on a lakeside patio drinking cocktails. Lake Norman offers dinner cruised onboard a yacht, and there are always pontoon boats and jet skis for rent.
Things to Remember
In Charlotte, we call it Uptown not Downtown. This is because the area that became center city was literally uphill from the other areas, and people had to go "to town".
There are seven key areas of the city that you will hear people talk about: Uptown, NoDa, Plaza-Midwood, University, South End, South Park, and Ballantyne. Each of these areas has its own special flavor, and you should definitely spend some time exploring the other spots, no matter where your Charlotte apartment may be located.
The weather will always be weird. You might hit 80 degrees on Christmas day, and you might see a thunderstorm every afternoon for a month in the summer. There are days where what you wore in the morning will not be suitable for the afternoon weather. Don't worry, you'll learn to roll with it.
Charlotte loves craft beer. You may think that Asheville is the city of craft breweries, but Charlotte has probably got them beat. A new brewery seems to open up every few months, and many of the big ones have two or three locations. If you enjoy a good brew, you will definitely find at least one brewery near your Charlotte apartment.
The city is in a great location for taking weekend getaway. In fact, you can get to the mountains or the beach in just a few hours. Asheville, Savannah, Charleston, Myrtle Beach, and Atlanta can all be reached in about two to four hours, traffic permitting.
Unless you work within walking distance of your Charlotte apartment, you will need a car. This city is spread out, and while there is a little bit of public transportation, getting around usually means driving. The light rail has been steadily adding more stops, and there is a bus system, but most people either drive or Uber to their intended destinations.
The only thing Charlotte may like more than beer is dogs. Those with a four-legged family member will be happy to know that there are a multitude of places around the city that allow you to bring your pup. You are free to sit on most brewery patios with your dog, and there are even a few places that specifically cater to dog owners.
Charlotte Has Got A Lot!
While the slogan may be a little bit cheesy, that doesn't make it any less true. This city is absolutely full of things to do, see, and eat. In fact, you may find that you rarely see the inside of your Charlotte apartment because you are always on the go!
New to Phillips Mallard Creek Apartments? Be sure to check out all of our amazing amenities!