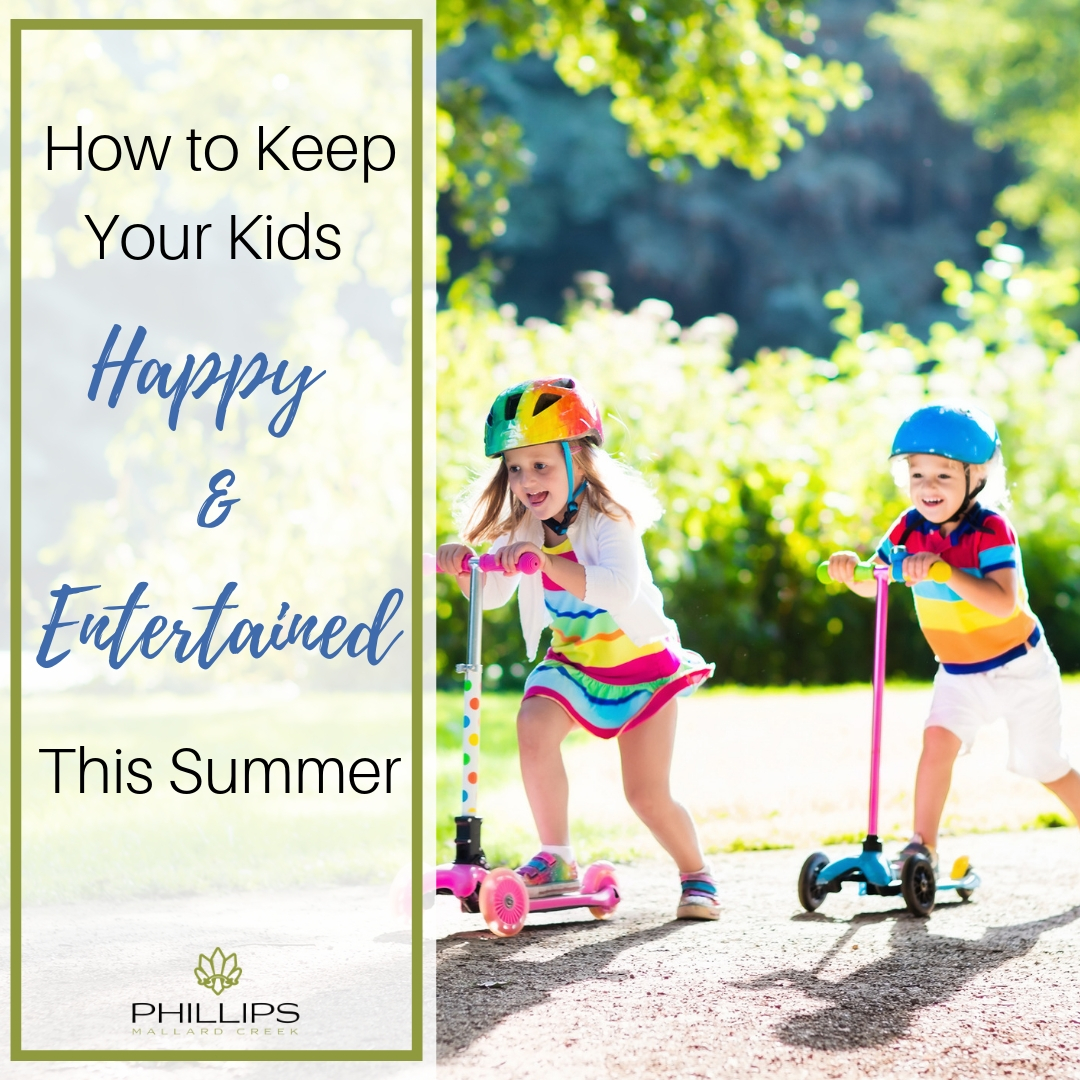 Summertime is definitely one of the most relaxed times of the year if you have a family. There is no morning rush to get the kids to school, and many of the extracurricular activities are on hiatus. However, all that free time just hanging out in your Charlotte, NC apartments can make your kids a little bit stir crazy which usually means more messes for you to clean up.
We want to save you a bit of a headache which is why we developed this list of fun activities that you can do with your children to keep them happy and entertained this summer. Have the best summer yet!
Spend Time at the Pool
Your Charlotte, NC apartments have a nice pool area where you can let the kids blow off some steam. Pack up a few sandwiches and bottles of water, and you can let the children tire themselves out splashing and playing in the cool pool waters while you read a book in the shade. Bring along a few pool toys, and you will have happy kids on your hands.
Go for a Bike Ride
If your kiddos have bikes, you can go for a ride around the apartment complex or drive to the nearest greenway. There are also plenty of parks in the vicinity around your Charlotte, NC apartments, and many of these parks offer biking and walking trails that you can explore. Stop for a treat at one of the ice cream or donut shops, and you will have a whole day of fun planned!
Visit the Library
On those days that are too rainy or just too hot to be outdoors, you will want to find have a few indoor activities on the ready to keep the little ones entertained. A trip to the library can definitely fill that void. The Charlotte Mecklenburg Library system has branches all over the city, so there is definitely one nearby. You can check the activities schedule as well because a lot of the branches have fun activities that your kids may love to join. There are book clubs for all ages and other types of discussion groups. Even the tiniest members of your family can join the fun at one of the toddler activities.
Ride Water Slides
There are two waterparks in the Charlotte area, one is outdoor and one is indoor. Ray's Splash Planet is the indoor water park that is open all year long. It is a fun place to have a birthday party, and there are also fitness programs there. Kids of all ages enjoy a few hours playing at Ray's which is located on North Sycamore Street. The other waterpark is connected to Carowinds, and it is a much larger park complete with a lazy river, wave pool, and waterslides suitable for thrill seekers. Spending time there will definitely be a highlight of your child's summer, although this may be more suitable for older kids.
Go to the Farmer's Market
Let your kids help out with the meal planning for a week or two and take them to the Farmer's Market to shop for fresh fruits and vegetables that are grown in the local area. There are smaller markets dotting the city, but the largest one is the Charlotte Regional Farmers Market which is located on Yorkmont Road off of South Tryon Street. It is pretty easy to reach from your Charlotte, NC apartments because it is accessible from 1-77 and I-85.
Climb a Mountain
School age children will enjoy getting out in nature and climbing up Crowders Mountain. Planning this activity will take a little bit of foresight because the mountain is a bit of a drive from Charlotte. It is located in Kings Mountain which is south of Gastonia down I-85, and it takes about 45 minutes to an hour to get there from Charlotte. There are several trails worth exploring including the Pinnacle Trail which takes hikers to the top for a stunning view. There are also other activities to be found in the State Park like camping, canoeing, and bouldering if hiking up a mountain just isn't your style. There are decent restroom facilities and a small museum near the trailhead.
See a Movie
Another activity that is good for a rainy day when you just have to get the kids out of your Charlotte, NC apartments is watching a movie. There are several theaters in the city that offer free or highly discounted movies during the summer months, and your kids will be able to chill for an hour or two munching on popcorn. Most of the movies are a little bit older, but that generally doesn't stop your kids from enjoying them on the big screen.
Ride the Train
If you have smaller kids that are into trucks, trains, and things that go, you may be able to entertain them with a simple ride on the light rail. Now that the line has expanded, there is more time to spend on the train than ever before. A roundtrip ticket is rather inexpensive, and you can get off for a snack or lunch at one of the stations along the way. It is an inexpensive way to entertain your kids for an hour or so, and it gets them out of your newly cleaned Charlotte, NC apartment.

---
As you can see, there are plenty of activities to enjoy in the Charlotte area that will keep your kids happy and entertained this summer. If you need even more activities, you can stop by the Discovery Place, the U.S. National Whitewater Center, or Freedom Park. You can also sign up for Charlotte on the Cheap newsletters which will keep you clued into all the free festivals and family activities that are happening nearly every weekend.
To see more great things to do around Charlotte, click here.