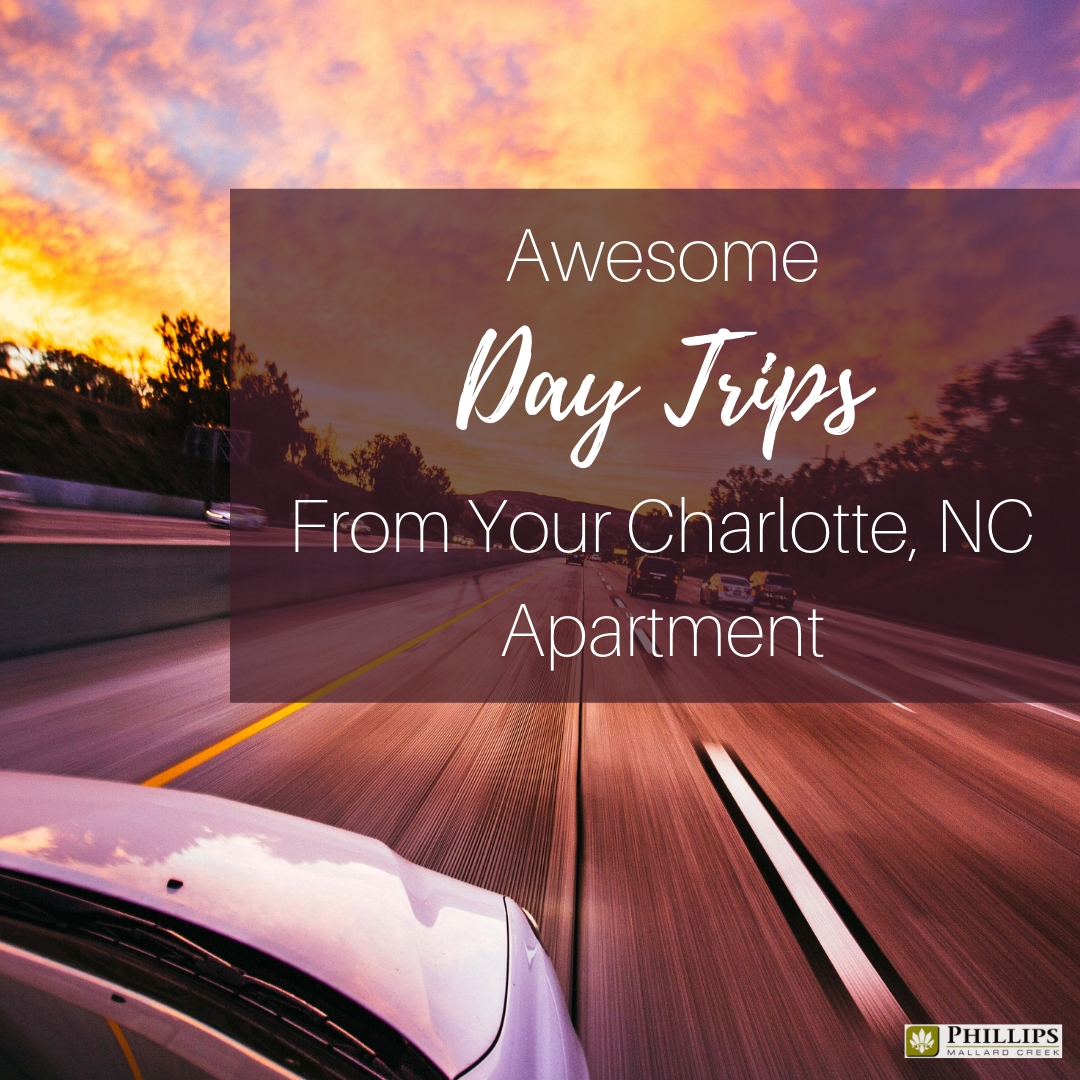 If you have been living in your Charlotte, NC apartments for a very long time, then you already know that the Queen City has plenty of great entertainment options and area attractions to keep you busy throughout the year. However, Charlotte is also in a fairly central location which means there are plenty of regional spots that make for a perfect day trip.
Here are several ideas that are within easy driving distance of your Charlotte, NC apartment. You can plan a weekend getaway or just a quick day trip with ease!
Did you know that the first documented gold found in the U.S. was right here in North Carolina? Yep! In fact, NC led the nation in producing gold well into the 1800's. Those wishing to learn more about the gold-mining past of the state can take a roughly 30-minute drive to Midland, NC. There are underground tunnels that can be explored as well as historical exhibits showing off some of the old-fashioned mining equipment. Make a whole day of it by bringing along a picnic basket for lunch and hiking a few of the nearby trails. Who knows, you may even strike it rich when you try your hand at the gold panning.
Leave your Charlotte, NC apartment and head down 85 towards Gastonia to find the Crowders Mountain State Park in Kings Mountain, NC. Hike the Pinnacle Trail, and you will find yourself reaching elevations of 1,700 feet above sea level. In total, the park measures 5k acres, and it contains places for bird watching, camping, rock climbing, picnicking, canoeing, and fishing. There are a very nice visitors center and small museum near the trailhead.
Fans of the classic 80's movie Dirty Dancing will recognize the scenery when they visit Lake Lure which provided the backdrop for that classic film. The drive to the lake is nearly two hours from the city, but this beautiful man-made lake is worth the trek. Your day trip can include a picnic on the lakeshore, a stroll on the boardwalk, or a meal in one of the nearby restaurants. Summer months are the perfect time to explore at Lake Lure because the beach offers a waterslide, snack bar, and changing rooms!
Families living in Charlotte, NC apartments love making day trips to the Tweetsie Railroad because it is such a smash hit with the little ones. There are fun rides like the carousel, Ferris wheel, free fall, and the Mouse Mine Train! You will also find live entertainment options, a petting zoo that includes over 90 animals, plus tons of places to eat and shop. The star attraction of the park, however, is the historic steam trains. On special occasions, visitors may even spot the famous Thomas the Train hanging around.
During the hottest days of the summer, a special day trip to Carrigan Farms may be in order. At the farm, you will find a refreshing dip in the Quarry is just the thing you needed to beat the heat. Carrigan Farms is located in Mooresville about an hour's drive from your Charlotte, NC apartment. Those wishing to swim must either wear a life jacket or pass the swimming test given by the lifeguards.
Those looking for a little "stay"-cation in the Charlotte area will find a trip to Concord in order. The Great Wolf Lodge is a family-friendly resort with a full-sized water park inside. There are plenty of other activities the whole family will enjoy including character appearances, bedtime stories, a ropes course, bowling alley, arcade, and plenty of shopping. There is a huge candy store that is sure to be a hit with the sweet tooths among your bunch.
From August to December, the Windy Hill Orchard is a popular spot for a day trip from the city. You can unwind with a glass of hard cider while snacking on fresh Apple Cider Donuts and Fried Apple Pies. This is a family-friendly spot that offers activities throughout the season including tastings, fire pit nights, and art tours. The Orchard can be found in York, SC which is about 45 minutes from Charlotte, NC apartments.
A three-hour drive from the city and you can be sitting in the only full-scale North Carolina casino. There are over 100,000 square feet of gaming to enjoy which includes table games like Roulette and Craps as well as slots and bingo games. There are also 20 poker tables where you can join a live tournament. Shopping, golfing, dining, and nightlife options are also available if you decide to turn a day trip into a weekend getaway.

---
As you can see, there are so many places within a short driving distance of your Charlotte, NC apartment where you can spend the day or even the weekend! You are sure to find at least one spot on this list that you will want to visit again and again.
If you are looking for an amazing Charlotte apartment to call home base, then you need to come see us at Phillips Mallard Creek. We have beautiful one, two and three bedroom apartments. Stop by for a tour today!