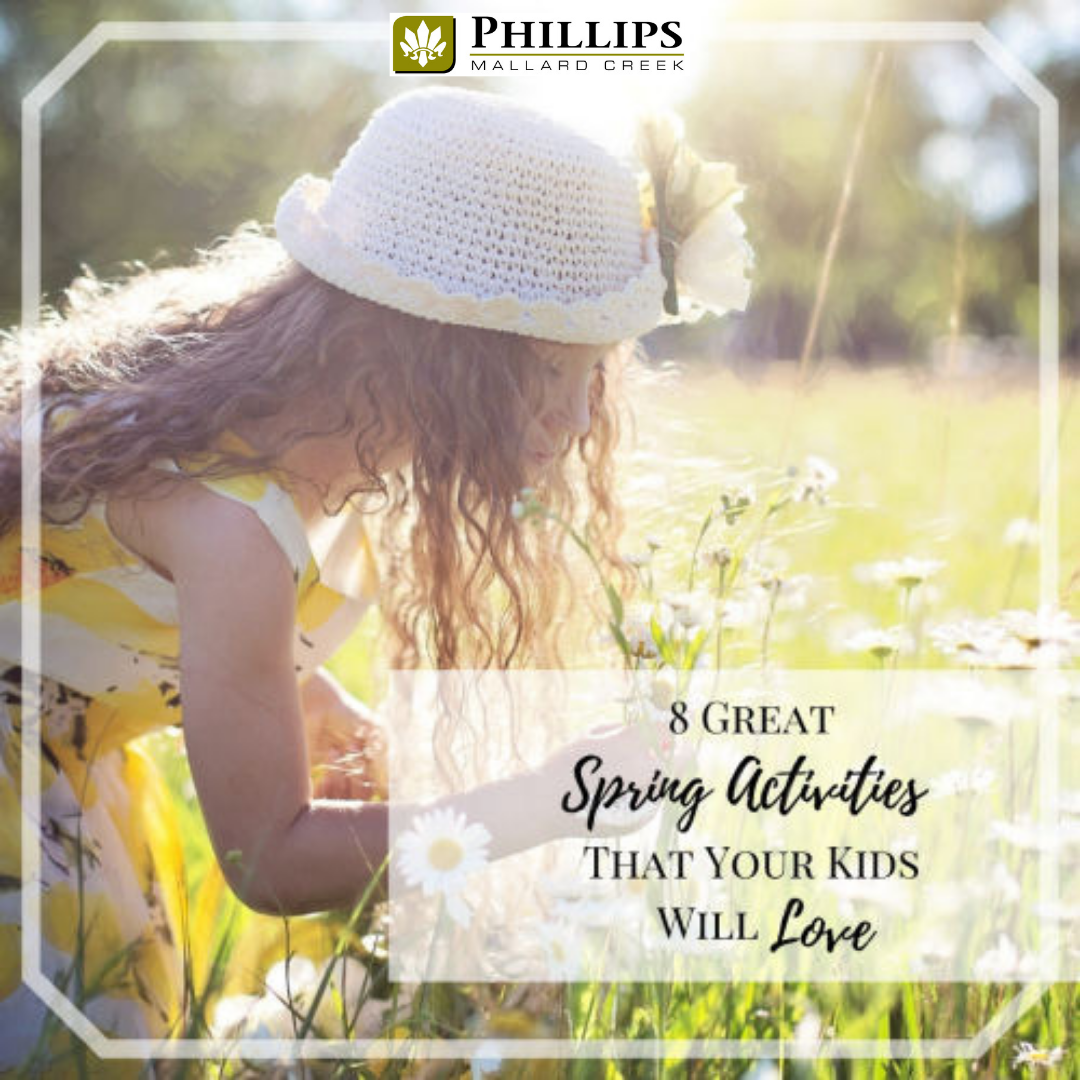 Sunshine, blooming flowers, balmy breezes…all these things can only mean one thing: Spring has finally arrived. If you have children, they are probably chomping at the bit to get out of their Charlotte apartments and play for a while in the fresh air. Who can blame them? Once the initial pollen storm is over, spending afternoons outdoors is North Carolina spring tradition.
Celebrate this change in the seasons and foster an appreciation for outdoor play with these fun family activities that your kids are sure to love!
Blow Some Bubbles
Remember the joy of blowing bubbles? Kids can spend hours enjoying this simple task. Younger kids tend to be spellbound, but even the older one's love popping these iridescent little soap spheres. After the novelty of simply blowing them wears off, you can try a few of these bubble games to keep them engaged.
You can take the experience to the next level by making your own batch of bubble solution. The recipe is so simple that even your smaller tykes will be able to help out. Think of how proud they will be when they are blowing bubbles from a solution they made themselves! You can find a recipe that only requires three ingredients right here.
Make Birdhouses
A fun project that will keep everyone occupied for a few hours, birdhouses can be made from tons of different materials. This activity may be more suited for school-age children, but even a toddler will enjoy helping out. You can find premade kits at the major craft stores or online. However, you can upcycle some of the items in your home to create birdhouses with a whole lot of character.
A task that may be a tad bit easier for the younger children is creating birdfeeders. They can make a great addition to the deck or patio for your Charlotte apartment, and your family can enjoy watching your new feathered friends stop in for a snack.
Go on a Scavenger Hunt
You and your kids can spend an hour or so brainstorming all the types of things that might be seen during the springs time such as pink flowers, bumblebees, or baby animals. Then you can wander around your Charlotte apartments complex to see how many things you can spot! If you would rather, you can find premade cards here.
You can even do an urban scavenger hunt! Take a walk around Uptown or some other section of the city, and see how many times you can spot the word spring on the signs or in the window displays. Get the kids in serious game mode by promising ice-cream when a certain number is spotted.
Play in the Rain
As the weather warms up, those spring rainstorms also arrive. However, since the temperatures are so much warmer, the rain can be a fun playtime activity. Grab your raincoats and boots (or not!) and head outside to splash in the puddles on the sidewalks.
If you want to add a little more structure to your rain play, you can find a list of games and activities meant for a rainy day here.
Picnic in the Park
Everyone loves a good picnic! There is something about eating outdoors that just makes the food taste better, right? Well, grab your fuzzy blanket and your picnic basket because spring is the best time to find a park in the city for a little al fresco lunch.
There are plenty of great picnic spots to be found in the area, including Mallard Creek Community Park. You can find a few other amazing spots for a picnic in this list from Mecklenburg County Parks & Recreation. We even have picnic area right here at Phillips Mallard Creek Apartments. Whatever spot you pick, just don't forget to pack your sweet tea!
Go for a Hike
Living in a city can make you forget about the amazing way it feels tramping through the woods on a warm spring day. Give your kids an experience they won't soon forget by heading out on a hiking adventure.
Mallard Creek & Clark's Creek Greenways are near all university area apartments and offers over 7 miles of paved and gravel trails to explore. It is an excellent place to take a few spring pictures to send out to the family members as well. You could also find more information about great hiking spots in this blog post from Charlotte Five.
Look for Four-Leaf Clovers
Want a super cheap activity that will keep them occupied for a while? Take them out to search for four-leaf clovers. It won't cost you a dime, and there are so hard to find that you will be there for a while.
Before you head out on your search, you can read up about the legends and superstitions involving four-leaf clovers to make the activity even more fun and exciting.
Visit the Farmer's Market
Since springtime also brings an abundance of fresh vegetables and fruits, you can take a family trip to the farmer's market. This is another place that you can create a fun scavenger hunt for, and your kids will love seeing all of the brightly colored items for sale.
Add another layer to the fun by choosing a spring recipe and search for all of the ingredients at the market. Then once you complete the shopping, you can head back to your Charlotte apartment to whip up your meal.

---
There you have it! Eight amazing things to do with the kids this spring! You will barely have a chance to see the inside of your home if you manage to fit in all of these activities. Remember to tell your friends about all the great reason why an apartment at Phillips Mallard Creek or our new sister property, Villas at Mallard Creek, is a great idea!